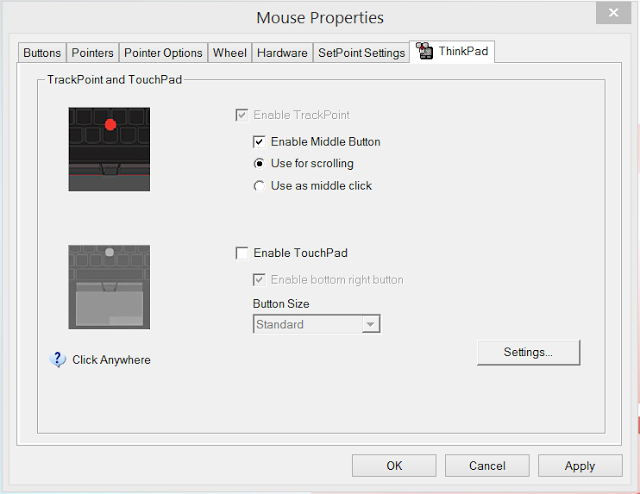 The Yoga 12, like many ThinkPads, has a combination of Touchpad and Trackpoint. This combination may not give you a great experience, particularly because it is easy to accidentally touch the touchpad and thus incur cursor moves and clicks. For this reason I find it more convenient to disable it. Here's how to do it:
- Hit the Windows key and type "mouse properties"
- Click on the first option on the list.
- Select the ThinkPad tab on the upper right side.
- Uncheck the box labelled "Enable TouchPad"
- Click the Apply and OK buttons.
The Trackpoint, while not perfect, is in my opinion a better input system than the Touchpad because it allows you to maintain your hands on the keyboard and therefore facilitate switching between cursor movement and typing.
If you want to modify some of the settings of either the Touchpad and Trackpoint you can also do it under the ThinkPad tab of the Mouse Properties window. To enable the Touchpad do the same stpes mentioned, but now check on the "Enable TouchPad" checkbox.

There are also some options in the Bios to enable and disable some of these features. For now though, this should be good enough.