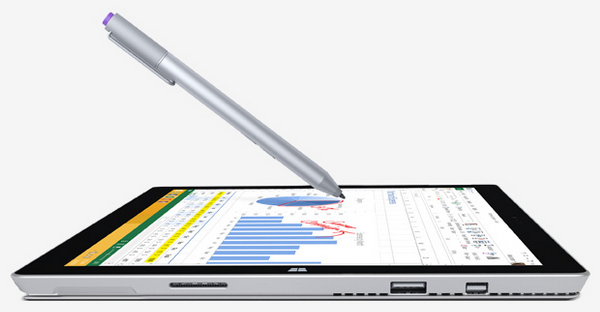 For a long time I have been a convertible tablet enthusiast and have blogged about several systems. Each tablet has strengths and weaknesses but the ones I particularly like are the ones with digitizer pen input. There are several pen technologies available, and the purpose of this page is to track
N-Trig
tablets.
Definitions:
Systems:

Slate tablet: a tablet that lacks a keyboard attachment.
Hybrid tablet: a tablet that can attach/detach an I/O module (usually a keyboard+touchpad+ports).
Convertible tablet: a tablet that has a permanent keyboard attachment and the screen rotates in order to form a slate-like tablet.

Tablet Accessory:

Interactive Pen Tablet (IPT): A computer attachment that has an interactive surface, and is usually connected via USB.
Interactive Pen Display (IPD): A computer attachment that has an interactive surface and displays graphics on the drawing surface.

Other:

Digitizer: An electronic pen-like input device that usually offers pressure sensitivity, hover state, palm rejection/cancellation, and several function buttons. The digitizer may or may not have battery. There are many methods for digitizer communcation, such as: Electro Magnetic Resonance (EMR), Ultra Sound, magnetic force lines, and other electro magnetic methods. Many digitizer systems have modes that allow finger touch to be on/off, digitizer on/off, or a combination (palm rejection) [1, 2]. Examples: Wacom Penabled, Wacom Intuos Pro Pen, N-Trig DuoSense 1 and 2 pens, Synaptics active pen, Atmel maxStylus mXTS100 and mXTS200 (also rebranded as HP Executive Tablet Pen), Anoto Live Pen 1, Hitachi, UC-Logic, and EPOS/Qualcomm pen, Sharp PN-ZL01 and PN-ZL02 Aquos Board Pens, and rebranded digitizers like Samsung's S Pen (which are Wacom pens), and lastly Hanvon's ERT/EMR technology. Generally digitizers have a tip of about 1 mm, although some are much larger (such as the Sharp Aquos board pens--this latter pen also has an "eraser" accessory), and in some cases the pen tips can be replaced. There's also this Panasonic summary.
Stylus: A pen-like input device that is not electronic. A stylus can work as a mouse pointer and may emulate a finger touch, however it generally does not have "hover" state tracking. In a way, the stylus is actually not always necessary for the function of the interactive surface, sometimes applied pressure is sufficient (as in the case of resistive touch panels where one can use a fingernail instead of the stylus). The pen tip radius of "capacitive" styluses may be as big as similar to that of a finger's touch, and may sometimes go as low as 2 mm--texture wise they are "gummy/bouncy". The pen tips of "resistive" styluses may be as low as 1 mm. Generally capacitive screens do not offer pressure levels, but resistive screens sometimes do have pressure sensitivity. Examples: Nintendo DS stylus, Palm stylus, iPad/Android tablet capacitive pens, Wacom Intuous Creative Stylus, 2mm iPad/tablet like "touch" pens, Nvidia Directstylus 2.
Touch screen: accepts input of a user's touch via resistive, conductive, or capacitive methods. These methods usually involve some kind of array/grid of sensors via a transparent overlay, via processing of an optical signal across a screen, via transducers, resistive stripes, and many others. On a side note, companies like Wacom, N-Trig, and Synaptics make touch screens that DO and DO NOT support digitizers.
Digitizer/Stylus Hybrid: A pen that has elements of digitizer and stylus. Example: Ten One Design Pogo Connect, Evernote Jot Script.
Pen Capture Devices: A system that captures the analog pen movement and turns such into digital. Examples: Wacom Inkling, DigiMemo, Apen A4.
* Likely to only have the N-Trig TS (touch screen), and does not support the digitizer **May have versions with N-Trig pen or capacitive/resistive stylus.
Search friendly version
---
Acer Aspire R7-572
Asus Taichi 21
Asus Taichi 31
Dell *Studio 17
Dell *XPS 15-L502X
Dell *XPS 17-L702X
Dell Latitude ST
Dell Latitude XT
Dell Latitude XT2
Dell Latitude XT3
Dell Precision M4600
Dell Precision M6600
Fujitsu LifeBook T580
Fujitsu Stylistic Q550
Fujitsu Stylistic Q572
Fujitsu Stylistic Q702
HP Slate 2
HP Slate 500
HP TouchSmart XT2
HTC Flyer / Evo View 4G
Intel **Classmate PC Education Tablet
Intel **Education Tablet 10-in
Lenovo *ThinkPad T400s
Lenovo *ThinkPad T410s/T410si
Lenovo ThinkPad Tablet
Microsoft Surface Pro 3
Motion Computing CL900
Motion Computing CL910 / CL910W
Motion Computing LE1700
Sharp OM1
Sony VAIO Duo 11
Sony VAIO Duo 13
Sony VAIO Flip/Fit 11A
Sony VAIO Flip/Fit 13A
Sony VAIO Flip/Fit 14A
Sony VAIO Flip/Fit 15A
Sony VAIO Tap 11
Toshiba *Satellite U505

---
N-Trig DuoSense2 Active Pens
---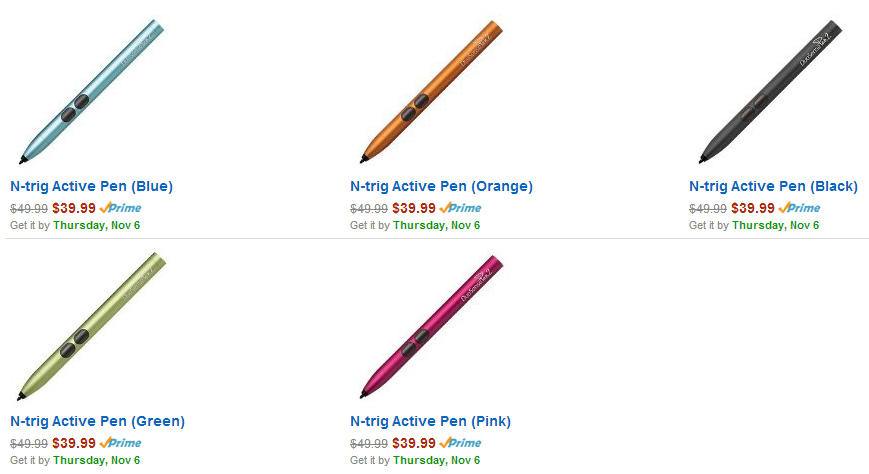 The list will continue growing. If there are tablets missing, of there is a need for a correction, please let me know in the comments. Thank you.