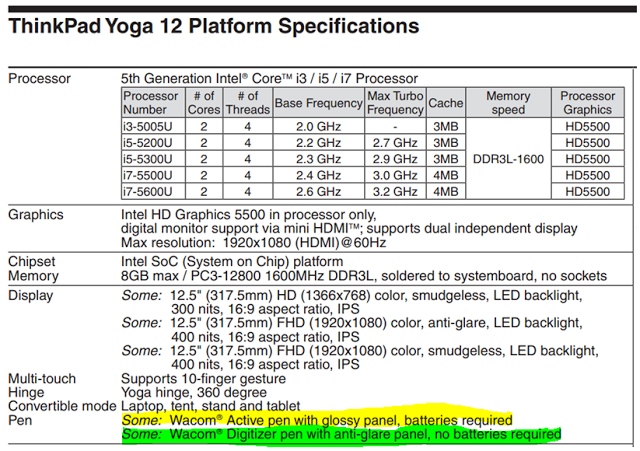 There are several digitizer options for the Lenovo ThinkPad Yoga 12. Below you can find some information about the two options.
The Yoga 12 units that have a glossy panel,
according to some documents by Lenovo
, are compatible with the
Wacom Active Pen.
This Wacom technology is more recent and goes by the name of Active Eletro Static (Active ES), and does use batteries. I have NOT yet tested a Yoga 12 unit with Active ES, so my assumption of compatibility is based on the Lenovo document.
The anti-glare version of the Yoga 12, according to the same Lenovo document, is compatible with the
Lenovo ThinkPad Yoga Digitizer (4X80F22110)
. This pen uses Wacom Penabled technology and does not require batteries. I have used this technology with a Yoga 12 and know it works fine.
It is important to note that both of these pens are NOT compatible. Therefore, if you use an Active Pen on a Penabled device (like the ThinkPad X230T) the device will not respond to the Active Pen. Likewise, if you use a Penabled pen on an Active ES device (like a Toshiba Encore 2 tablet) the device will not react to the pen.
There may be models of the Yoga 12 that do NOT support digitizer pen. So just because you have a certain screen version does not guarantee that either of the pens will work. But, at least knowing the screen version may increase your chances of getting the pen option that you want.
Which one is better? I have mostly used Penabled devices, but my experience with a Toshiba Encore 2 tablet that uses Active ES was very pleasant. So as of right now I have to say that either of them is fine.
Note: Both of these pen technologies seem to be better than N-Trig DuoSense 2 (as seen in the
Microsoft Surface Pro 3
tablet).