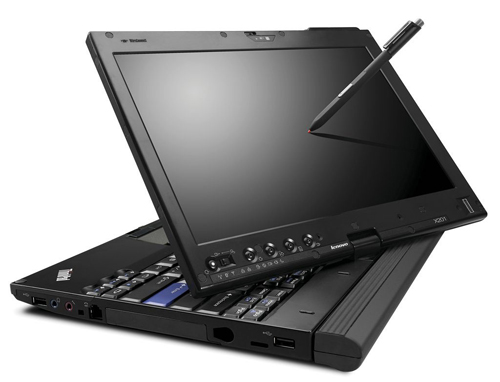 These are a few questions that have been asked at the Lenovo X Series Forums. Every once in a while I browse the forums because I want to know what users about the systems. If given the chance I turn into a spammer, so I have stopped replying in forums.
Should I get multi-touch for the X201 tablet?
---
It depends on your needs. Multi-touch is neat for some tasks and can be used in combination with the digitizer (
example 1
,
example 2
). Sometimes... there can be conflicts if the digitizers are not used properly (
palm rejection issues
).
If your plan is to only draw you may not need the multi-touch. (ala
Foxorian
)
Does the Lenovo X201 Tablet have Firewire?
---
No. The X201 Tablet does not have a Firewire port, and the
X200 UltraBase
does not ether. The solution is to get a
ExpressCard Firewire Card/Adapter
. The X201 Tablet can handle 34mm and 54mm cards.
Hibernation problems with the X201!
---
Hibernation is a good idea, but it's not always executed properly. From my experience I always run into issues with if after a few times of using it, usually wifi and bluetooth issues. My recommendation about hibernation on Windows systems is to NOT USE IT. Use "sleep" instead or just shut down the system.
I have touch panel issues with my X201 Tablet!
---
If you run into issues with the touch screen I recommend reinstalling drivers. You can get the touch+pen drivers at
Lenovo's website
, or
Wacom's website
. Always
Create a System Restore Point
before installing new drivers, that way you can go back if you need to.
What is the keyboard "red button" on Lenovo ThinkPads?
---
The "red button" found in Lenovo ThinkPad keyboards is a "Lenovo TrackPoint". Basically it is a mouse pointer that is similar to a small joystick. On the X201T I prefer the TrackPoint over the touchpad because it enables my hands to stay on the keyboard, which may yield a slight speed improvement when typing. You can assign a "mouse click" on the TrackPoint. Part of the TrackPoint system are the 3 buttons next to the spacebar are mouse left, middle, and right buttons.
The touchpad on the X201T is not great. It's a bit small and does have issues, so maybe it can be used to do other things. Such as a Alt+Tab replacement like
Vista Switcher
.
How to get out of Sleep Mode on the X201T?
---
When your X201T goes into "Sleep Mode" you may notice that pressing a bunch of buttons does not "Wake Up" the system. To bring your X201T out of sleep, or "Wake Up", you have to press the Fn key or the Power button.
Can you use the X201 Tablet as a notebook?
---
The Lenovo ThinkPad X201 Tablet can be used as a "normal" notebook as it has almost the same specs. I think there are pros and cons to the X201T, but lets go over some of my thoughts.
Looks
The system is slim and depending on your field you might want to consider what other people view you as based on the system you have (it's like showing up to a meeting in a business suit as opposed to jeans and white t-shirt). The X201T is a business minded system. The keyboard is close perfection so it will do great for typing sessions.
CPU and Battery Life
With up to Core i7 CPU the system is very capable. The i7 version does suck a bit more power than the i5 and X200 series. On average I get about 3 hours of battery life with the 8 cell battery. The i5 and X200 series would probably give you more battery life. (
X220T gets even more
)
Graphics
The one drawback that I see with the X201T is the lack of a dedicated mobility graphics card, which means that you might be left out of some 3D applications (usually games and design tools like Maya and 3DS Max). For a lot less money you can buy a notebook that has more 3D capabilities. Of course you can get an external graphics card such as the
ViDock
, but then you turn your mobile system into a desktop pc. (
X220T improved on graphics by a lot
)
Touch and Digitizer/Stylus Input
Obviously the X201T has the added benefit of a rotating screen which can be used for note taking and touch applications. The slate factor also allows you to easily carry the system around and "mark" text in PDFs. Some good software includes
PDF Annotator
, and
Microsoft OneNote
.
Docking Station
---
The X201 Tablet and X201 notebook have the capability of connecting to a docking station, which allows extra USB ports, easy connection to external monitors, optical drive (CD, DVD, Blu-Ray), and charging of your battery. It's something that is excellent for the person that wants to turn their notebook into a "desktop replacement" system. It's one of the most useful accessories for the X201 Tablet.
More on ThinkPad X200 UltraBase
.
---
At the end of the day it's really what you will use the system for that matters. If the system can do the things you want to accomplish then it's a system worth considering.
(94m)